Introduction
Moxa's OBU-102 fiber-optic bypass units add bypass relay functionality to any network node. In linear topologies, a single power outage or node failure can take out an entire chunk of the network, because communications to all the network nodes further down the line are also cut. With relay bypass, that node is bypassed in the event of a failure, and the rest of the network is unaffected.
Bypass Relay Functionality
The OBU-102 Series sits between a node and the network to add bypass relay functionality to any network switches that do not already support this important function. In normal operations, the OBU-102 Series acts as a gateway that forwards network traffic to and from the network switch. However, if power is lost, the OBU-102 will bypass the unpowered switch and simply pass network traffic to the next switch in the relay.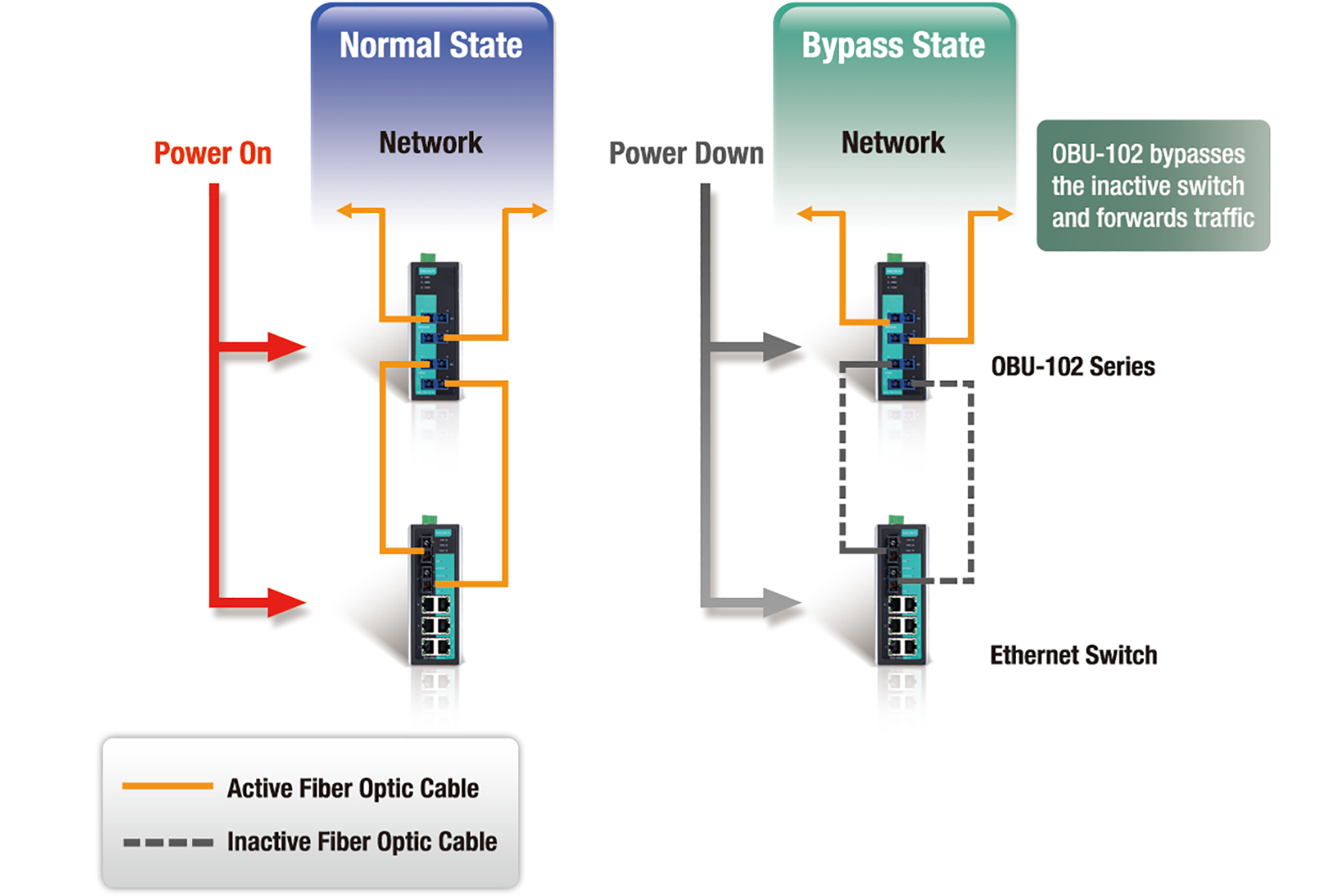 Specification
Interface
Fiber Ports
100M/1G/10G fiber in SC/ST/LC connector, single mode
LED Indicators
PWR1, PWR2, STATE
Rotary Switch
configure boot delay interval
Power Requirements
Overload Current Protection
1100 mA @ 48 VDC
Reverse Polarity Protection
Present
Input Voltage
12/24/48 VDC redundant dual inputs
Connection
2 removable 2-contact terminal block
Bypass Properties
Insertion Loss
Max. 1.6 dB
Optical Switching Time
Max. 10 ms
Environmental Limits
Operating Temperature
-20 to 70°C (-4 to 158°F)
Storage Temperature
-40 to 85°C (-40 to 185°F)
Ambient Relative Humidity
5 to 95% (non-condensing)
Physical Characteristics
Weight
700 g
Dimensions
53.6 x 135 x 105 mm (2.11 x 5.31 x 4.13 in)
Installation
DIN-Rail mounting, wall mounting (with optional kit)
Housing
Metal, IP30 protection
Standards and Certifications
EMI
FCC Part 15 Subpart B Class A, EN 55022 Class A
Safety
UL 508 (Pending)
Note
Please check Moxa's website for the most up-to-date certification status.
Shock
IEC 60068-2-27
Vibration
IEC 60068-2-6
EMS
EN 61000-4-2 (ESD) Level 3, EN 61000-4-3 (RS) Level 3,
EN 61000-4-4 (EFT) Level 3, EN 61000-4-5 (Surge) Level 3,
EN 61000-4-6 (CS) Level 3, EN 61000-4-8, EN 61000-4-11
Freefall
IEC 60068-2-32
Warranty
Warranty Period
2 years
Details
See www.moxa.com/warranty
If you need accessory information for this product, please use our Online Contact Us Form to reach us, our industrial sales team is here to help you find the accessories.