A rackmount UPS with line interactive topology, the CyberPower Smart App LCD OR700LCDRM1U provides battery backup (using simulated sine wave output) and surge protection for department servers, workgroup servers, workstations, network devices, and telecom installations without active PFC power supplies. The OR700LCDRM1U uses Automatic Voltage Regulation (AVR) to correct minor power fluctuations without switching to battery power, which extends battery life. AVR is essential in areas where power fluctuations occur frequently. The OR700LCDRM1U comes with a three-year warranty and a $300,000 Connected Equipment Guarantee.
Main Specification
General Information
Manufacturer
CyberPower Systems, Inc
Manufacturer Part Number
OR700LCDRM1U
Manufacturer Website Address
http://www.cyberpowersystems.com
Brand Name
CyberPower
Product Line
Intelligent LCD
Product Model
OR700LCDRM1U
Product Name
Smart App Intelligent LCD OR700LCDRM1U 700VA UPS
Product Type
Line-interactive UPS
Technical Information
Plug/Connector Type
NEMA 5-15P
Receptacles
4 x NEMA 5-15R
Receptacles
2 x NEMA 5-15R
Dataline Protection
RJ-45
Dataline Protection
RJ-11
Protection Type
Black Out
Protection Type
Dataline Surge
Protection Type
AC Surge
Protection Type
EMI / RFI
Protection Type
Overload
Protection Type
Sag
Bypass Switch
Not Provided
Emergency Power OFF
No
Cord Length
10 ft
Power Description
Load Capacity (VA)
700 VA
Load Capacity (Watt)
400 W
Input Voltage
110 V AC
Output Voltage
120 V AC
Waveform Type
Simulated Sine Wave
Surge Energy Rating
1030 J
Circuit Breaker
Yes
Management
Alarm
On Battery
Alarm
Low Battery
Alarm
Overload
Controls/Indicators
Status Indicators

On Unit:

LCD Panel:

Input Voltage
Output Voltage
Battery Capacity
Load Level
Runtime
On Battery
Overload
Silent Mode

Interfaces/Ports
Serial Port
Yes
USB
Yes
Battery Information
Number of Batteries
2
Battery Characteristics
Maintenance-free
Battery Chemistry
Sealed Lead Acid
Backup/Run Time (Full Load)
3 Minute
Backup/Run Time (Half Load)
11 Minute
Battery Life
6 Year
Maximum Battery Recharge Time
8 Hour
Environmental Conditions
Temperature
113°F (45°C)
Physical Characteristics
Color
Black
Height
1.8"
Width
17.3"
Depth
9.3"
Rack Height
1U
Form Factor
Rack-mountable
Weight (Approximate)
19 lb
Miscellaneous
Package Contents

Smart App Intelligent LCD OR700LCDRM1U 700VA UPS
Rack Ears (2)
User Manual
Power Management Software
Warranty Card
Serial Cable
Phone Cable
USB Cable

Additional Information

Intelligent LCD Diagnostic Display: The innovative front panel LCD can be used to display detailed information on the UPS status and current power conditions. The LCD displays 11 different diagnostics: Input/Output Voltage, Battery Capacity, Estimated Runtime, Load Level, On Battery, Overload, and Silent Mode
Automatic Voltage Regulation (AVR) - AVR takes irregular AC power and converts it into a consistent Sinewave so sensitive electronic equipment can achieve its optimal performance. This not only conserves battery life, but also delivers a more stable signal to your connected equipment
Microprocessor-based Digital Control: Digital routing is maintained through a network of integrated circuitry and discrete values are used for internal system processing, which significantly increases efficiency and response of CyberPower UPSs
EMI/RFI - Provides shielding against electromagnetic interference & radio frequency signals. Most commonly, this is used to prevent line noise or humming that occurs over telephone lines or stereo electronics
USB Connectivity - HID compliant USB port enables full integration with built-in power management and auto shutdown features of Windows, Linux and Mac OS X
PowerPanel Smart Power Management Software: In the event of a power outage, PowerPanel will safely save and close your open files and shut your computer down in an orderly, intelligent manner. The software allows users to view detailed information about their electrical power and the vitals of the UPS. It includes configurable system notifications, automatic self tests, adjustable high/low voltage warnings, event/data logging, and scheduled shutdowns
Metal Housing: Rigid metal construction allows for placement in areas with a demanding environment
Audible Alarms - Audible tones identify when the unit is running off battery power, unit overloads and low battery
Resettable Circuit Breaker - Convenient unit reset switch in case of an overload
Windows Vista Compliant - Power Management software has been fully tested and compliant with Windows 9x, 200x, Server, XP, and Vista

Standard Warranty: 3 Year Parts & Labor/Replacement

Certifications & Standards

FCC Class B certified
cUL
UL 1778

Software Included
PowerPanel Software
Green Compliant
Yes
Green Compliance Certificate/Authority
ENERGY STAR
Country of Origin
China
Warranty
Limited Warranty
3 Year
Additional Warranty Information

CyberPower stands behind its products by offering an industry leading 3-year warranty. CyberPower also has a #1 rated technical support team that will assist you with product, installation, or warranty concerns --- Free of charge.
MODEL- OR700LCDRM1U       VENDOR- CYBERPOWER
    
FEATURES- 700VA Office Rackmount LCD series UPS
       The Office Rackmount LCD Series UPS is designed to protect home-
        office servers, PCs, graphic workstations, and commercial 
        electronics.  The Intelligent Crystal-Blue LCD diagnostic panel 
        gives administrators immediate, real-time information of the UPS's 
        vitals.  LCD diagnostics include Input/Output Voltage, Battery 
        Capacity, Estimated Runtime, Load Level, On Battery, Overload, and 
        Silent Mode.
       The OR700LCDRM1U has 6 outlets, USB/Serial communication ports, and 
        RJ11/RJ45 network protection.  Automatic Voltage Regulation (AVR) 
        ensures that all your connected equipment is receiving clean power 
        and stabilizes the voltage to a nominal 120VAC. 
       PowerPanel Plus  Smart-App Management software (included) 
        automatically saves and closes open files and shutdowns the PC in 
        an intelligent and orderly manner.  CyberPower also carries a 
        3-year unlimited warranty, has a professional award-winning 
        Technical Support, and offers a lifetime Connected Equipment 
        Guarantee of $50,000.
    Includes UPS Unit; Rack Ears (2); User Manual; Power Management 
      Software; Warranty Card; Serial Cable; Phone Cable; USB Cable.
* Intelligent LCD Diagnostic Display
   The innovative front panel LCD can be used to display detailed 
   information on the UPS status and current power conditions. The LCD 
   displays 11 different diagnostics: AVR Status, Estimated Runtime, 
   Battery Capacity, Load Level, Input & Output Voltage Level, Output 
   Frequency, On-Battery, Overload, Fault, and Silent Mode.
* Automatic Voltage Regulation (AVR) 
   AVR takes irregular AC power and converts it into a consistent Sinewave 
   so sensitive electronic equipment can achieve its optimal performance.  
   This "Boost/Buck" topology will both increase low voltages and decrease 
   high voltages, without switching to battery-mode.  This not only 
   conserves battery life, but also delivers a more stable signal to your 
   connected equipment.
* Microprocessor-based Digital Control 
   Digital routing is maintained through a network of integrated circuitry 
   and discrete values are used for internal system processing, which 
   significantly increases efficiency and response of CyberPower UPS's.
* EMI/RFI 
   Provides shielding against electromagnetic interference & radio 
   frequency signals.  Most commonly, this is used to prevent line noise or 
   "humming" that occurs over telephone lines or stereo electronics.
* USB Connectivity 
   HID compliant USB port enables full integration with built-in power 
   management and auto shutdown features of Windows, Linux and Mac OS X.
* Metal Housing 
   Rigid metal construction allows for placement in areas with a demanding 
   environment.
* Audible Alarms 
   Audible tones identify when the unit is running off battery power, unit 
   overloads and low battery.
* Resettable Circuit Breaker 
   Convenient unit reset switch in case of an overload.
* 3-year Warranty 
   CyberPower will replace damaged units if within 3 years of purchase 
   date.  We stand behind our products and guarantee quality.  CyberPower 
   also offers a #1 rated technical support team that will assist you with 
   product, installation, or warranty concerns --- Free of Charge!
* ISO & Safety Certifications 
   All CyberPower's manufacturing facilities are ISO-9001 Quality Tested.  
   Our products are also certified by the FCC, cUL, and UL.
* Windows Vista Compliant 
   Our Power Management software has been fully tested and compliant with 
   Windows 9x, 200x, Server, XP, and Vista.
     
  -- SPECIFICATIONS ----------------------------------
UPS TYPE     - Line-Interactive
INPUT        - Voltage              : 90VAC - 140VAC
               Frequency            : 60 Hz +/- 3 Hz 
               Plug Type            : NEMA 5-15P 
               Plug Style           : Straight 
               Cord Length          : 10 foot
OUTPUT       - VA                   : 700 
               Watts                : 400 
               On Battery Voltage   : 120Vac +/- 10% 
               On Battery Frequency : 60Hz +/- 1% 
               On Battery Waveform  : Simulated sine wave 
               Outlet Type          : NEMA 5-15R 
               Battery/Surge Outlets: 4 Battery/Surge
                                      2 Surge only
               Overload Protection  : Internal circuitry limiting/circuit 
                                        breaker.
               Voltage Regulation   : Yes 
               Transfer Time        : 4ms 
BATTERY & RUNTIME-
               Runtime at Half Load : 11 minutes
               Runtime at Full Load :  3 minutes
               Battery Type         : Sealed lead acid 
               Battery Model        : 6V 9AH x 2
               User Replaceable     : Yes 
               Typical Recharge Time: 8 Hours 
SURGE PROTECTION & FILTERING-
               Surge Suppression    : 1,030 Joules
               Maximum Surge Current: 6,500 Amps 
               Phone/Ethernet
                          RJ11/RJ45 : 1 in, 1 out combo 
               Coax Protection      : None
COMMUNICATIONS & MANAGEMENT-
               USB HID Compliant UPS: Yes 
               Serial Port          : Yes
               Management Cable     : USB cable, Serial cable 
               Audible Alarms       : On battery, low battery, overload 
               Software             : PowerPanel Business Edition 
               SNMP/HTTP Remote
                          Monitoring: Optional 
               LCD Display          : Yes 
SOFTWARE     - Includes PowerPanel Business Edition
ENVIRONMENTAL- Operating Temperature: 32 to 104 degrees F
               Operating Humidity   : 0 to 95% Non-condensing
WARRANTY     - $50,000 Connected Equipment Guarantee
APPROVALS    - FCC B, CUL, UL1778, cUL 107.1
DIMENSIONS   - 17.0"w x 1.75"h x 9.25"d  (1U)    WT.- 18.5 lbs.
www.cyberpowersystems.com
Remote Management Adapters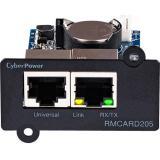 Services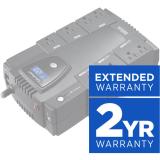 UPS Batteries